On the eve of the most important Christian holiday, someone appears to have set fire to the Church of St Luke and St Matthew at 520 Clinton Avenue in Brooklyn, which is one of the hubs for Occupy Sandy. I find this to be one of the saddest of all the violent images that have come out of the repression of the Occupy movement. A church. That is used for hurricane relief. Set on fire. There's a violence in America right now that feels ugly.
Luckily, no one was hurt but it was a serious incident. According to the New York Times report:
Father Ballard said the fire had been fueled by a pair of gasoline containers donated to Occupy Sandy volunteers, who had used the church as a staging area for hurricane relief efforts. The gasoline was intended to be used in a generator for a Christmas party in the Rockaways on Sunday night. Father Ballard said the containers had been put outside when the church was cleared of most donated materials to make way for Christmas services.
Clearly, the minister does not think for a minute that this was an accident. Whoever was responsible, if this was an act against the Occupy movement, as seems likely if not proven, it seems yet another escalation of the violent end to 2012.
It also recalls another difficult episode in progressive history, the fire-bombings of churches during the Civil Rights Movement.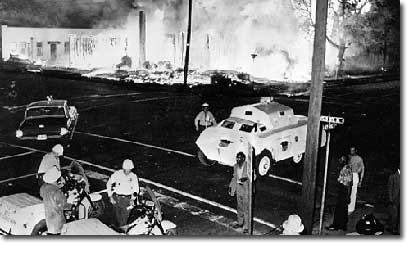 People remember the terrible bombing of the Sixteenth Street Baptist Church in Birmingham AL (above) in 1963 that killed four young girls but we should also remember the trail that led up to that event:
In January 1957, four Black Churches were bombed in Montgomery, Alabama. In April, two were burned in Bessemer, Alabama. In 1958, burned churches were reported in Birmingham and Memphis. In 1959, a church was reported to have been burned in Roscoe, Georgia.
There were more arson attacks on churches during the movement, especially in 1964 and 1968. A wave of 37 church burnings in 1995-6 led to a specific act of Congress that seemed to quieten the attacks. Two hundred and thirty-five people were convicted under the Church Arson Prevention Act. However, in 2006 nine churches in rural Alabama were attacked again.
Obviously we don't yet know what happened in Brooklyn. Perhaps it will somehow turn out to have nothing to do with Occupy. But let's be realistic. It will probably have been done by one or more young men. Their lawyers will tell them to deny any political motive, to say that it was a prank gone wrong. The echoes of the past tell us otherwise.
What to do? Donate to Occupy Sandy (again, yes). Volunteer again. If you are in New York, why not attend the service that will be held tonight at 10pm at the church? I'm the least religious person in the world but this sounds about right:
We are pressed on every side, perplexed, but not easily broken.

-Corinthians 4:8
The lesson of the past is simple: the resistance has to begin immediately and be very visible or there will be more attacks like this.