Over the past few years, the United States government has devoted enormous attention and energy to pursuing a set of malefactors. No, not the banks and other agents of the financial crash. Some sports players who are alleged to have been "doping" to achieve their results, as if all professional sport was otherwise a fair contest. The message is clear: all of the 99% are living precariously now, and if you think that any form of achievement makes you an honorary one per center, guess again.
As most will know, the United States Anti-Doping Agency, a quasi-governmental body, published hundreds of pages yesterday, alleging a long running saga of banned drug use in Lance Armstrong's cycling team. This follows close on the lengthy pursuit of Roger Clemens, the baseball pitcher.
It's not like I don't think this is probably what happened. But just look at professional sport. For example, since he was caught using banned substances Yankees baseball player Alex Rodriguez has "mysteriously" declined. Meanwhile, 40-year-old Raul Ibanez has had an "amazing" Fall, in which this .200 hitter has suddenly started hitting two home runs a game. Even an athlete that keeps to the rules is a highly produced machine, using extensive supplements and vitamins right up to the edge of the permitted, sleeping in oxygen tents, having zero body fat and so on.
In rugby, when they realized that people were always lifting each other in the lineouts (the ball is thrown in from the side and people jump to catch it), they just made it legal. But, we will be told, steroids and other banned substances are dangerous. Have you ever watched a crash in professional cycling? Or tried to ride a bike up a mountain? It's all dangerous. And if danger were a serious category, we'd have to ban American Football at once.
So what's happening here? In Slavoj Zizek's interesting new book on 2011, The Year of Dreaming Dangerously, he argues that well-paid people get what he calls a "surplus-wage" that has taken the place of the old surplus value:
The bourgeoisie in the classic sense thus tends to disappear: capitalists reappear as a subset of salaried workers– managers who are qualified to earn more because of their competence (which is why the pseudo-scientific "evaluation" which legitimizes their higher earnings is so crucial today).
Zizek explains, in effect, why the division of 99% and one per cent seems innately right to people. The new capitalism of rent sustains even its elite class as paid workers, giving stock in companies but not ownership. Rewards for those getting the "surplus-wage" come as both money and as time. But they all come on sufferance.
Continued membership of those distinguished from the minimum-wage population, itself constantly being driven down by aggressive immiseration, is subject to constant review. From bankers to professors and nurses, continued status depends on passing what are usually called "performance reviews." Such reviews consider all aspects of conduct at work, which is to say all conduct because work is never ending.
The working body is subject to constant self-review and assessment, indexed by obligatory gym membership and dietary modification. In this way, the performer will both be able to work longer, and require less health insurance. My employer is encouraging us to take a form of insurance with very high deductibles backed up by a Health Savings Account. In other words, I need to be able to amortize my own body.
The pro athlete is the exemplar of such self-fashioning. Their bodies are subject to review by fans and management every day. The conduct of conduct is Foucault's definition of  governmentality. So it is too important to be left to such unpredictable entities. You can fix interest rates, share prices and mortgages with impunity, it appears. But never let a "banned substance" enter your body. It's clear what we're being told: these people are the gladiators of the empire. They serve at imperial pleasure and, just as in the Roman empire, the supreme power can determine (professional) life or death.
The disciplining of elite sportsmen makes it clear both that no one is above precarity but also that the decision as to who will suffer for transgressions is capricious. The bureaucratic state machine of the first era of the military-industrial complex was not concerned with the routine use of amphetamines by sports players of the period. At that time, the idea of a rebel gladiator named Spartacus became an anti-imperial theme. There's a cable TV show called Spartacus now. Look at them: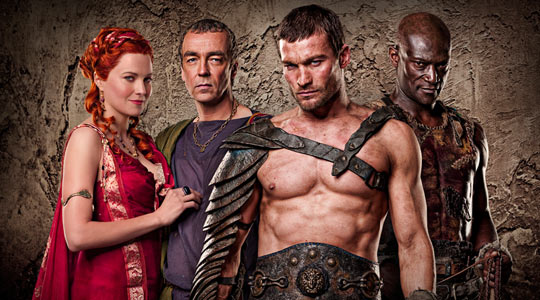 These strange, porn actor bodies aren't rebels, they are surrogates for empire. We can kill these curiously depilated and implanted bodies at will because no one believes that they are real. By the same token, they are no role models for rebellion.
There's a reason the signature gesture of the global social movements has been refusal.