So today I tried the debt meme in London at Goldsmiths College. I'm starting to get a feel for how this goes. There's an academic constituency that sees themselves as representing "theory," who tend to be skeptical. There's a cultural studies crowd, who are intrigued but concerned it might be a bit much. And then there are the younger people, who get it, and who want to put it into action, wherever they happen to be.
There's no doubt that debt is a major unspoken issue in the UK. Even the laissez-faire government has been prompted to rein in payday loans that charged an insane 1700% interest. The charity StepChange reports that 17% of its clients are using payday loans in 2012, nearly doubled in the last three years. UK debt is currently nearly 500% of GDP, despite recession,  if you count personal, company and national debt.
The chart from StepChange's recently published report shows how much difficulty lower income households in the UK find themselves in.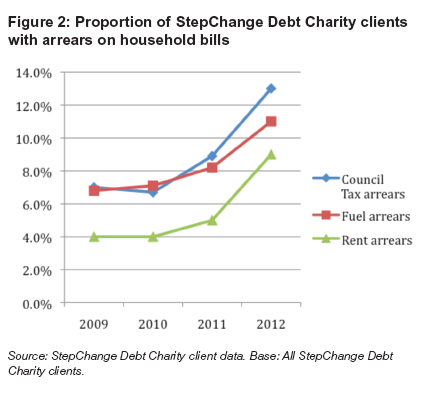 Large and increasing numbers of people are behind on rent, fuel bills and council tax (the UK version of property tax). Credit card debt is up, with households owing £8000 ($12,000) on average. Step Change show that a lot of people are using "the plastic safety net," paying bills by credit cards. And students are now looking at £9000 ($13,500) annual tuition bills, up from only £3000 two years ago.
So debt refusal, debt abolition and the Rolling Jubilee were ideas that clearly sparked a lot of interest. It's a much greater step here than in the US in some ways because people still believe in government and the social contract, even after thirty-five years of neo-liberalism, known here as Thatcherism.
Perhaps the comedy of errors around the media crisis will change some minds. When the tabloids were caught hacking people's phones, especially that of the murdered teenager Milly Dowler, there was outrage. Wait for the official report, government said. Now the report is out. The Conservative plurality that dominates the government has, in US parlance, punted. Too soon to act, too rash, all the predictable and predicted hogwash.
The crisis is above all a crisis of authority. Media-backed government has rammed through the socio-economic transformation of Thatcherism in a seemingly unchallengeable alliance. If the public start to see the relationship as being as not only corrupt, but blatantly refusing the process of reform, then more radical options will start to seem necessary.
Switching back to debt, is a UK Rolling Jubilee possible? Just as you would expect, there is a secondary debt market but it's clubby and less open than in the US. Here
impaired loans have either been handled in-house by banks or sold on to specialised debt collection agencies. So-called distressed debt funds have also started to snap up defaulted UK consumer loans, attracted by the country's relatively stable, transparent and creditor-friendly legal code.
At the same time, there's also consumer protection and charities like Step Change. But the Financial Times article quoted above worried that the secondary market was getting overextended. Sounds like it's time for a Jubilee.