There's a moment in one of the videos from the early days of OWS that stayed with me after we saw it again last month. Chris, a long-time occupier and Direct Action mainstay, leans into the park from the stairs and says
This is the epicenter of a global revolution!
Massive cheers. It would have been more accurate perhaps to say: "this is the node of the planetary fightback at the epicenter of global media." Less thrilling, though. Watching Thomas Sankara speak in the videos from 1987, you see a confidence in the forward march of history that now seems so long ago and far away. But his agenda of sustainable, regional and peaceful economies is still a viable alternative. You can see emerging a triangulation of how it might–might–be possible to triangulate it into being.
Node one: Africa
Sankara's claim that Africa could be the center of an alternative economy seems far-fetched in the era of the Troika consensus. But the rebellion by South Africa's majority is ongoing, not just in the mining industry but also in trucking and now municipal workers. Unemployment continues to rise and South Africa's credit rating was just downgraded.  And most of the country's trade is with Europe, so things are going to get worse. The question is whether calls for land redistribution and the nationalization of the mines might lead to a rethinking of what the economy is intended to do. If, as the strikers hope, its primary purpose is to support the living standards of the majority, then everything would have to change.
Node two: Bolivia
In a classic legal essay from 1972, Christopher Stone asked
Should trees have standing?
Meaning can non-human entities have legal rights? As Stone pointed out, corporations do. And each time an extension of rights occurs, it had previously been "unthinkable" to do so.  Stone proposed that "natural objects," such as forests, rivers and oceans should have rights. Since then, such basic ideas have come to be enshrined in law but always fiercely opposed by the neo-liberals. For it creates a stalemate between the "rights" of the corporation and those of the natural object.
How can such issues be resolved? In Bolivia, a new proposal for legal rights to the planet that would give a clear direction:
Bolivia's government will be legally bound to prioritise the wellbeing of its citizens and the natural world by developing policies that promote sustainability and control industry.
This principle is known as Vivir bien, or "Living Well." The proposed law defines it as follows:
Living Well means adopting forms of consumption, behaviour and and conduct that are not degrading to nature. It requires an ethical and spiritual relationship with life. Living Well proposes the complete fulfilment of life and collective happiness.
Bolivia does not have the luxury of considering climate change to be something you can ignore in two Presidential and Vice-Presidential debates (unless you count Romney's "I Like Coal" sloganeering for West Virginia's benefit). As the climate changes, Bolivia is running short of drinking water and is also, ironically, at risk of flooding from melting glaciers. Vivir bien is exactly what would motivate the South African grass-roots activism and why should it not?
Node Three: Texas (yes Texas)
While such ideas have routinely been dismissed as "tree-hugging" in the United States, the term is no longer just rhetoric. In East Texas, eco-activists have occupied the trees that have to be cut down for the Keystone XL Pipeline.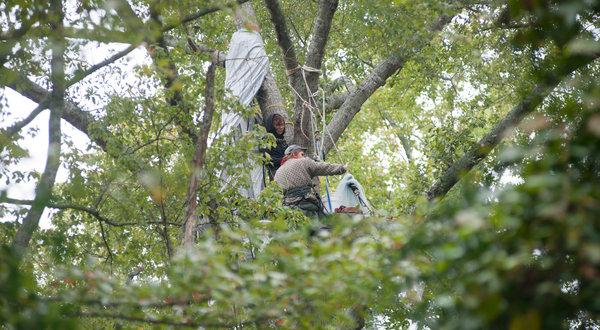 There's plenty of hostility in Texas as you might imagine. Texas land commissioner Jerry Patterson marvelously argues that the pipeline to bring Canadian bitumen to the Gulf:
will create thousands of jobs and lessen our dependence on foreign oil.
Perhaps Canadians aren't foreign? But what about that nasty socialized medicine they have? Sarcasm aside, it's direct action in defense of vivir bien that might open a space in which the new legal doctrine of planetary non-human rights could take effect. To the immense benefit of humans–well, most of them. Say 99%?