Unlike most of the mainstream reporters on OWS's day of action for its first anniversary, I was on the street yesterday from 5.30am to 11.30pm. This is a report back on what I saw, with lots of pictures so you can see too.
At 5.30, I set off for the meeting point in the Financial District. Coming out of the subway in the dark, I was confronted with the most extensive police presence I have yet seen outside of the former East Germany and the military dictatorship in Colombia. Since 9-11 large metal barricades shaped like a half-moon have been set into the streets around the Stock Exchange to prevent vehicle access. Although no Occupy protest has ever used a vehicle, these were all raised. Around them were line upon line of metal barricades, tied firmly together with plastic. Present behind the barricades, rows of police and, in the streets nearby, police on horseback, in vans, and coaches, while helicopters clattered overhead. Walking through the streets, dressed in "civilians" to look like a possible Wall Streeter, I felt like a character in a spy movie. It did not seem as if I was simply going to a political demonstration.
Later in the day it looked like this at Wall Street:
And police checked ID all day: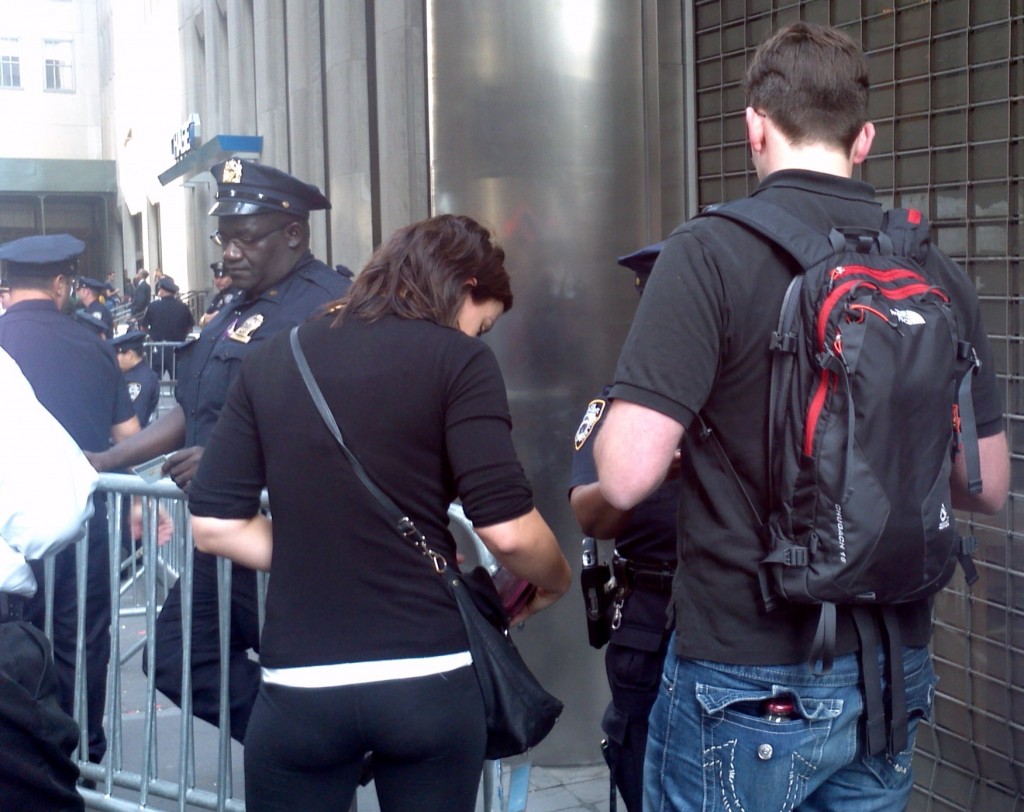 It was not as if the authorities did not know what was intended. All actions were posted online and the last Spokes Council was held outside One Police Plaza.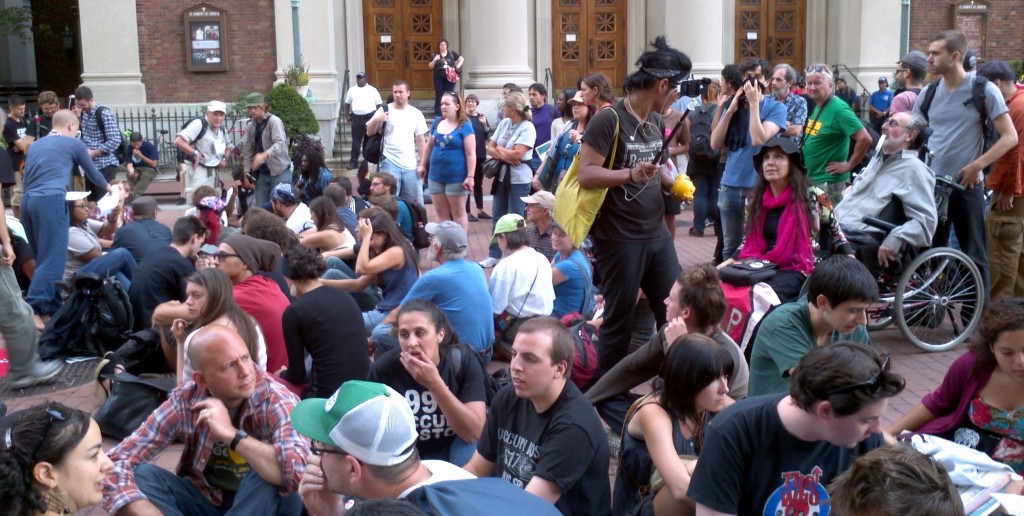 Despite all this, those protesting debt gathered at 55 Water Street in large numbers and good spirits. There were four such zones around Wall Street: debt, eco and education were the specific themes driving sections of the movement at the moment, with a general 99% zone taking on the direct engagement with Wall Street.
Actions were agreed in a quick Assembly and the gathering departed to an intersection close to Wall Street. As chance would have it, other protestors had just visited the same intersection and there was a strong police presence. People returned to 55 Water and reconfigured the strategy. From now on, we would move in small groups doing actions that were shared only with other members of that group.
My group determined to engage in jubilant disruption of institutions that promote debt servitude. One example already discussed in the media was an intervention at JPMorgan Chase, one of the prime beneficiaries of the bailout. People simply walked into the lobby, danced, threw confetti.
Then we mic-checked a letter of protest to Jamie Dimon, the notorious chairman of the bank.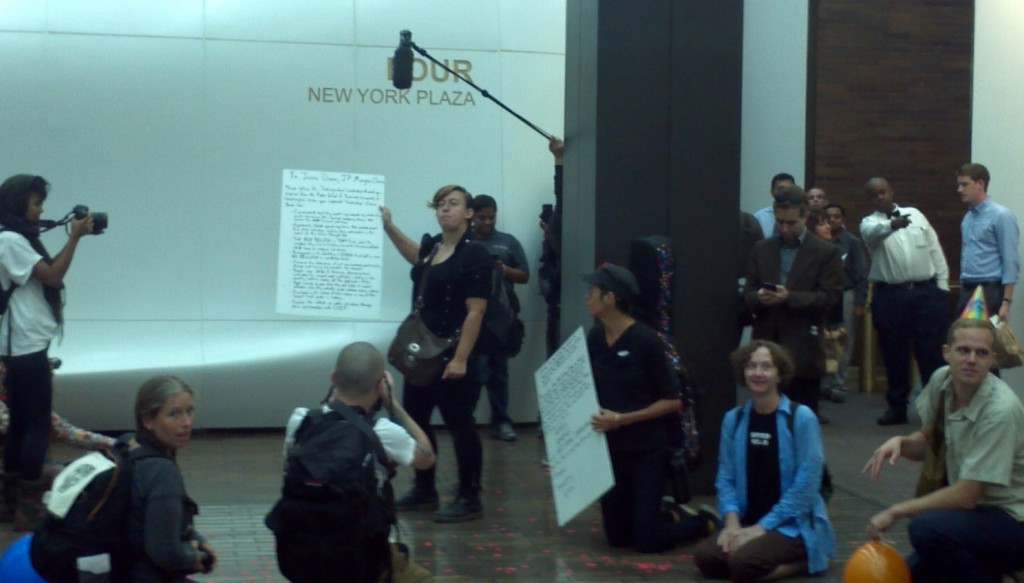 Unfortunately, despite the peaceful nature of this protest in a public space, several people were arrested. Nonetheless, it was felt that the action had been a success and similar interventions were carried out at Citibank and Emblem Health.
The other tactic consensed by the group was to hold a traffic intersection to visualize the intent to disrupt Wall Street. Intersections were chosen because they were adjacent to major debt institutions. This action is a version of Occupy's foundational gesture: to put your body into public space where it is not supposed to be. Traffic was delayed by no more than five minutes and far greater delays were caused by the NYPD lockdown of the Financial District.
Further, in this case, it reverses the doctrine on which financial neo-liberalism rests, that is to say, "move on, there's nothing to see here." By calling a halt to circulation in the financial center, we protest the markets' claim to sole authority over our bodies and minds.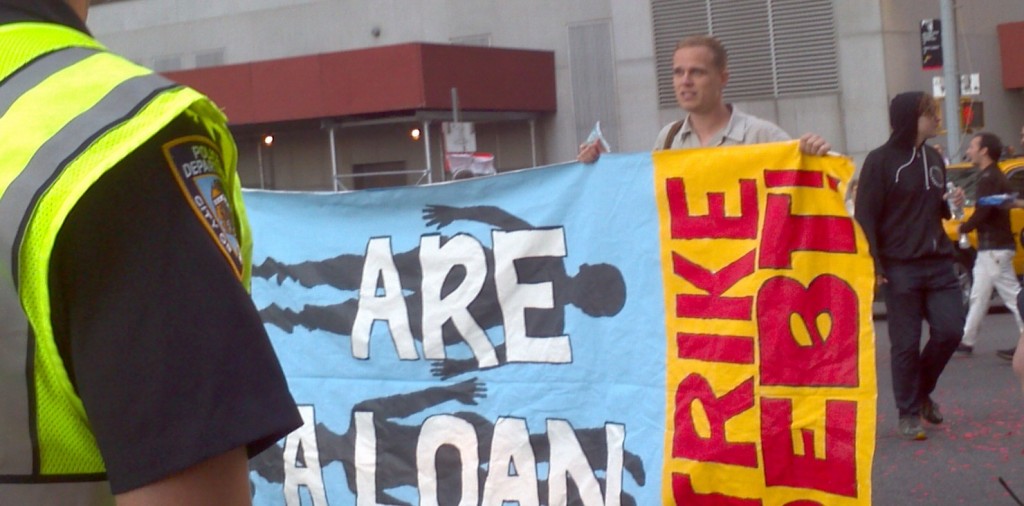 These actions (among dozens of others) celebrated the Occupy anniversary and disrupted Wall Street without causing injury to anyone or anything.
Tired people from all four zones regrouped at 11 at Bowling Green for a Spokes Council to determine the next actions to take.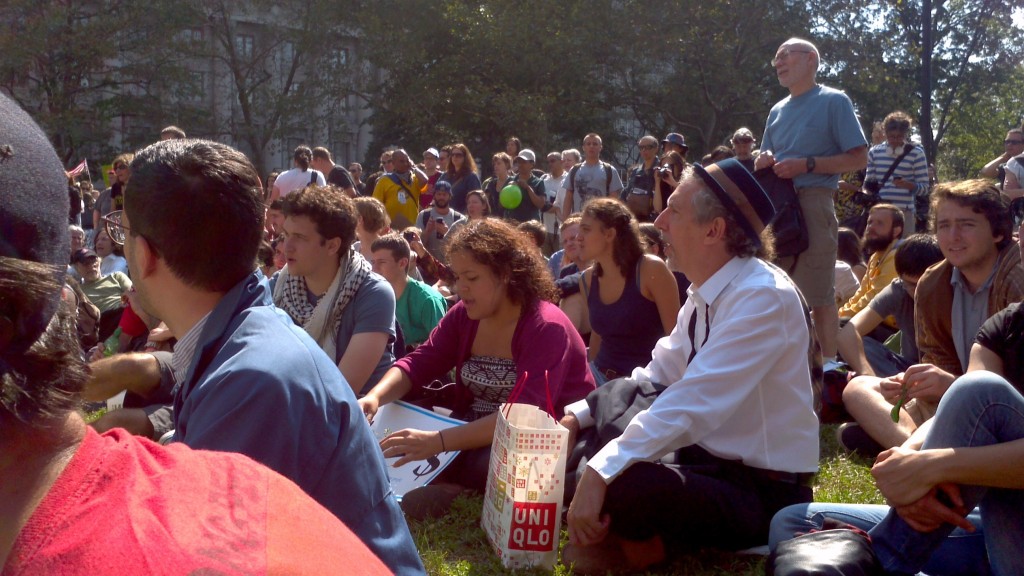 We heard about the actions that people had carried out and decided what to do next. Our group decided to protest at the World Financial Center. It was totally successful in the sense that security immediately locked down all three towers and admitted only people with IDs from corporations working there.
The energy of the day moved from disruption to celebration. We returned to Liberty Plaza, held an assembly, swapped stories, distributed publications, sang songs and ate cake. We were protected by the OWS barricade–made from foam.
From here, I spent the end of the day doing jail support: over 180 people were arrested, including a number in our group. Let's pause here and ask a question: if the media estimate of "over a thousand" (NY Times) protestors is accurate, are the NYPD really saying they arrested 18% of demonstrators? Of course, common sense suggests that this number indicates an attendance of about 3500-5000 all told, which would feel about right to me.
The maze of the prison-industrial-complex at the bottom end of Manhattan is something to see, forbidding and expansive buildings situated relatively close to each other, but hard to access and locate. No one seemed to know where anything was, or what was happening to people we knew had been arrested. Finally, just before midnight it was determined where they were, and that they would not be arraigned till the following day (Tuesday). When he evicted Zuccotti last year, Bloomberg said that he intended to give OWS protestors unpleasant times in the system, and this one promise he appears to have kept.
I will write an assessment tomorrow but for now: Was this the revolution? Did it shut down Wall Street? No, and no: because it was not intended to be or to do so. Did it celebrate Occupy and disrupt Wall Street as intended? Yes and yes.
Please note that I was mindful in writing here that Mutant Legal have advised us not to discuss online anything that might be construed as illegal, so actions that were not already in the public domain have not been discussed in detail.